2-Day Thorsmork Tour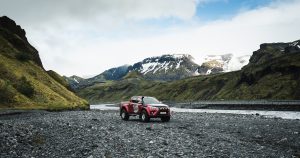 Welcome to our overnight Thorsmork tour, an adventure that will take you through the famed Thorsmork valley, known for it's birch tree forests, thundering glacial rivers rushing down from the surrounding glaciers. The glaciers and accompanying mountain ranges contribute to the geographical features that shield this valley from bad weathers. A little paradise just outside of civilization.
Day 1:
Our journey begins with a visit to Seljalandsfoss, a majestic waterfall located on the south coast of Iceland. Here you will witness the water cascading down a 60-meter drop and have the opportunity to walk behind the waterfall for a unique view. We will then head to Gigjokull glacier, a breathtaking outlet glacier from the infamous Eyjafjallajokull volcano that erupted in 2010.
After this, we will proceed to Langidalur for an exhilarating hike, surrounded by stunning views of the Thorsmork valley. The hike will take us through a diverse range of landscapes, including birch forests, black sand deserts, and glacial rivers. We will enjoy a relaxing evening around a campfire, while indulging in the Icelandic tradition of grilling a leg of lamb.
Day 2:
On the second day, we will start with a short morning hike around the valley, exploring the area's hidden treasures, such as small waterfalls and other unique features. We will allow the expertise of the guide to navigate the weather forecast and adjust accordingly. The valley has numerous options for hike, each equally stunning and enjoyable.
After our morning hike, we will venture away from Thorsmork and head to Stakkholtsgja Canyon, a hidden gem. Here you will witness the magical spectacle of the narrow canyon with its moss-covered walls and a glimmering waterfall hidden deep in the canyon. Afterward, we will proceed to Nauthusagil canyon, situated close to the Seljalandsfoss waterfall, which offers an exciting hike through the canyon's narrow features. It's important to be sure footed and prepared to get a little bit wet while exploring the full experience of this charming little gem.
This overnight Thorsmork tour will offer a fantastic experience of Iceland's incredible natural wonders, with a perfect mix of adventure and relaxation. So pack your hiking boots, come along with us, and be ready for an unforgettable journey!