Reykjanes Tour, a quick way to get familiar with volcanos, lava fields and hot springs!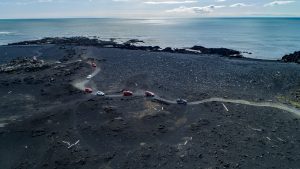 The Reykjanes tour should definitely be on your list of things to do if you're traveling to Iceland. In just one day, this tour will take you on an enigmatic journey through a volcanic wonderland where you'll see how new earth if formed, witness the relentless force of the Atlantic Ocean and relax in the world famous Blue Lagoon.
Lake Kleifarvatn, a stunning lake surrounded by volcanic craters and black sand beaches, is the first stop on the tour. One of the biggest lakes on the Reykjanes Peninsula, it is renowned for its remarkable color changes and hot springs that extend far beneath the surface. You can enjoy a quiet stroll along the lake while admiring the lovely natural surroundings.
The Seltún geothermal area is the next stop on the tour; here, you'll discover a series of steam vents and boiling mud pots that together form an unearthly environment. A truly peculiar environment is produced by the sulfur odor and the steam that comes up from the ground. Additionally, you can stroll along the boardwalks while learning about the geology and history of this amazing location. The Brimketill, a naturally occurring seawater pool created by the erosion of the lava rocks, is the following destination on the journey. This location provides a breathtaking view of the ocean and is ideal for taking pictures.
Volcanically active, again, after 800 years of rest!
After that, we'll proceed to the 2021 Geldingadalur eruption area so you may see brand new lava fields where you may, on a good day, still see steam and gasses rise up from the ground. This is a once-in-a-lifetime chance to witness the aftermath of one of nature's most amazing spectacles. You can stroll along the pathways and get a close-up view. The journey will also take you to the tectonic plate bridge, where you may stroll between the gently drifting tectonic plates of North America and Eurasia. This geological location is distinctive and fascinating, and it provides a wonderful photo opportunity.
The tour will finish with a stop in the famed Blue Lagoon, where you may unwind and luxuriate in the warm, mineral-rich waters. After spending the entire day discovering the Reykjanes Peninsula's amazing natural treasures, this is the ideal way to unwind.