Private Into the Glacier Tour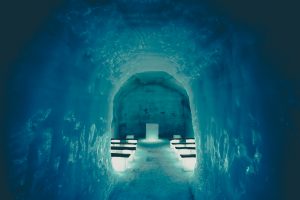 Join us on a private Into the Glacier Tour from Reykjavik and we'll include all of the sights of the Borgarfjord area. No need to worry about getting to the meeting location for your tour on time because we will come to you! We pick up from anywhere in the capital area. Our friendly and experienced guide will pick you up from the lobby of your hotel, ensuring a stress-free start to your adventure.
The first stop on our tour will be the stunning Hraunfossar Waterfalls, where you can witness the natural beauty of Iceland. These waterfalls flow from beneath the Hallmundarhraun lava field, creating a breathtaking contrast against the black of the lava. The rivulets seem to appear out of nowhere, making it a truly magical sight. As we continue on our journey, we will arrive in Húsafell, where you can grab some delicious food at the Húsafell Bistro. Alternatively, you can visit the small convenience store to pick up a sandwich to enjoy on the road or at a scenic location en route to our next destination.
And now, the moment you have been waiting for – the crown jewel of our tour! We will head towards the Langjokull Glacier to visit the Ice Tunnel, an incredible opportunity to explore the world of the ice age. Until recently, you could only see the surface of the glacier, but now you can venture deep into its heart, experiencing the awe-inspiring beauty of the ice cave. Inside the glacier, you will feel like you've been transported back in time. We will have a bit of fun in the ice age-like conditions, exploring the capabilities of our super jeeps, and marveling at the icy wonderland around us. It is a truly unforgettable experience!
At the end of our adventure, we will return back to civilization, feeling exhilarated and enriched by the natural beauty of Iceland. Let us take care of the logistics while you sit back, relax and enjoy the adventure.