Private Golden Circle Tour in an Arctic Truck
The Private Golden Circle tour in Iceland is a journey that takes you through some of the most stunning landscapes and geological wonders in the country.
The tour begins at Thingvellir National Park, a UNESCO World Heritage site that is steeped in cultural and historical significance. Here, visitors have the opportunity to explore the Almannagjá gorge, where the North American and Eurasian tectonic plates are visibly pulling apart, and to learn about the significance of this site as the birthplace of the first Icelandic Parliament in 930 AD.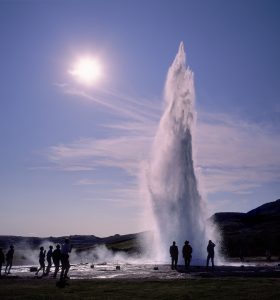 As we leave Thingvellir, we'll make our way to the Geysir Hot Springs, one of the most popular attractions in Iceland. This area is a testament to the power of geothermal activity, with the most famous geyser, Strokkur, erupting every 5-10 minutes, shooting a column of boiling water up to 30 meters in the air. Visitors are encouraged to relax in the nearby hot springs, where they can soak in the warm waters surrounded by the stunning landscapes of the area.
The tour continues with a visit to the Gullfoss Waterfall, one of the most magnificent waterfalls in the world. As you approach the waterfall, the sound of the cascading water grows louder, and the view from the viewing platform is simply breathtaking. The waterfall is formed by the Hvítá River, which has carved its way through the landscape over thousands of years, creating a canyon that is both awe-inspiring and humbling.
A Taste of the Arctic on the Golden Circle
In addition to these main attractions, we will explore Langjökull Glacier, Iceland's second largest ice cap, where we'll get a chance to truly test the capacity of the super jeep. Whether you're interested in geology, history, or simply want to experience the breathtaking beauty of Iceland, the Golden Circle tour is the perfect way to do so.
In conclusion, the Golden Circle tour is a must-visit for anyone traveling to Iceland. With its combination of stunning landscapes, geological wonders, and rich cultural history, it truly offers a journey that will leave a lasting impression on all who experience it.