Have you always wanted to experience the breathtaking northern lights dancing in the evening skies, lightening up their surroundings and leave you astounded after the mesmerizing show? The Northern Lights Experience gives you the chance to see the northern lights on a self-drive adventure on a 38"inch Arctic truck. You will drive through challenging mountain tracks and learn the basics of driving in Icelandic mountain conditions!
The Northern Lights Experience is a great adventure where you drive with a guide to an isolated area close to Reykjavík. By going on a super jeep, we are able to drive on a mountain road to a place where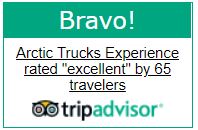 there are no interruptions of lights or minibusses! Your guide checks the weather and cloud forecast before the trip and takes you to all the best places with the highest chance to see the Northern Lights.
You will drive on fun mountain roads where you have the opportunity to test the Arctic Truck.
The experience depends on weather and sky conditions and we reserve the right to cancel the trip if weather conditions are not good.
It's recommended that you book the Northern Lights Experience on the first days of your visit to Reykjavík.
The tour runs from August 25 – March 31 .

Pickup: 20:00 from your hotel or guesthouse in Reykjavík
Trip duration: 5-6 hours
Season: August – March.
Bring with you: Warm outdoor clothing, valid driver license, snacks for the trip and a camera
Meals: No meals are included in the tour
Insurances: All drivers need to sign a car rental contract before the trip starts. Self-risk is 3000 EUR. Please read all the details of the contract before starting the trip.
Arctic Trucks cannot guarantee the Northern lights even though weather and cloud conditions are good. If the tour goes ahead and there are no lights seen we cannot offer any refund. 
Self-drive or Driver guided. 
For AT38 Hilux the cost for a vehicle and guide is ISK 100.000.-  max 3 pax per jeep.
Currency Converter
Includes: The Arctic Trucks vehicle and guide/ instructor.
Extras:
Extra Driver: Included
Unlimited kilometers: Included
Rope, shovel, tow eye, tire gauge: Included
Terms of Payment
A deposit of 20% of the tour price is required at the confirmation of a booking if not agreed differently. We recommend at this time all passengers take out comprehensive travel insurance.
Full payment (less deposit) shall reach Arctic Trucks at least 4 weeks prior to arrival of guests. In case of further delay on payments, Arctic Trucks will reserve the right to treat this as a cancellation and withdraw its confirmation of the services.
For group bookings, we require full payment 6 weeks before arrival of the group.
Cancellation policy
Day Trips:
10% of the price of your tour in nonrefundable.
If you cancel with more than seven days' notice you will be refunded 90% of the trip price.
If you cancel with less than seven days before your departure you will be refunded 70% of the trip price.
If you cancel with less than two days' notice (48 hours) no refund will be given.
If we must reschedule you might join a truck-convoy and share a guide in which case we offer a discount from the original price.
If you have any questions please send us a line to experience@arctictrucks.is or fill out the online contact form. We get back to you within 24 hours