Icelandic Highlands Experience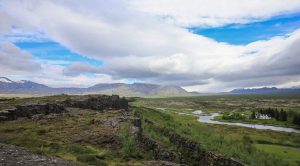 The Icelandic highlands experience is an express introduction to the wonders of the backcountry with it's mountains, ravines, rivers and wind inspired silence.
Welcome to the land of fire and ice, where natural wonders are abundant and the scenery is unparalleled. This three-day tour takes you through the heart of Iceland, where you will witness some of the country's most remarkable sights. You will stay overnight at Landhotel, a charming and comfortable accommodation that is perfectly situated for exploring the highlands.
The traditional Golden Circle, one of Iceland's most well-known attractions, will be our first stop on the first day. This journey takes you to Þingvellir National Park, the Geysir geothermal area, and Gullfoss waterfall, three of the most stunning attractions along the Golden Circle route. In the rift valley where the North American and Eurasian tectonic plates meet in Þingvellir National Park, Iceland's first parliament was created in 930. You can see Strokkur's stunning eruptions at Geysir, where it sprays boiling water up to 30 meters into the air. One of Iceland's most famous waterfalls, Gullfoss, will be your last stop. Its cascading waters plunge into a rough canyon.
And, into the back country we go!
In the rugged highlands on day two, you'll travel to Landmannalaugar, a surreal environment of brightly colored mountains and geothermal waters. On your way to this remarkable location, which offers hikes through the nearby hills or relaxation in one of the natural hot springs, you'll pass through lava fields, moss covered mountains and a wind inspired silence. The distinctive geology of the area is responsible for the vibrant colors that are characteristic of the Landmannalaugar region. You'll return to Landhotel for another cozy night of sleep after spending the day exploring this breathtaking area.
The tour's final day will take you to Thorsmork, a secret valley sandwiched between three glaciers. With good cause, this region is one of Iceland's best known hiking locations. The untamed and beautiful surroundings are ideal for a leisurely hike. Walking through birch trees and over glacial rivers as you explore the valley amid imposing mountains and glaciers is part of the experience. This is a fantastic method to get a close-up view of Iceland's beauty. After spending the entire day discovering Thorsmork, you'll travel back to Reykjavik and be dropped off at a hotel of your choosing.
This tour is perfect for those who want to experience the very best that Iceland has to offer. You'll witness the geological wonders of the Golden Circle, the colorful landscapes of Landmannalaugar, and the rugged beauty of Thorsmork, all while enjoying comfortable accommodations at Landhotel. Book your tour today and prepare for an unforgettable adventure in Iceland.