Ice Cave and the Golden Circle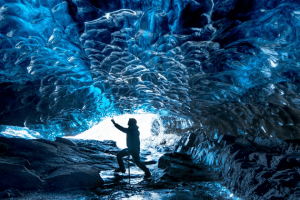 What better way to spice up the classic Golden Circle tour than with a thrilling visit to a natural ice cave hidden in the Langjokull glacier! This tour is perfect for nature lovers and adventure seekers who want to experience the best of Iceland's natural beauty.
We will start our journey from Reykjavik and head straight to the first stop, the stunning Gullfoss waterfall. Gullfoss is a two-tiered waterfall, one of Iceland's most iconic and impressive natural wonders. We will take a walk around the waterfall, and if you're lucky, you might even catch a glimpse of a rainbow above the waterfall.
Our next stop is the Langjokull glacier, where we will witness first hand the usefulness of the oversize tires and drive on the ice cap to the entrance of the natural ice cave. The ice cave is located deep within the glacier, and it's a unique experience to explore its blue-hued walls and crevasses. You will be mesmerized by the stunning ice formations, and your expert guide will provide you with interesting facts and insights about the glacier.
After exploring the ice cave, we'll head to the geothermal area in Haukadalur, better known by the name of it's most famous resident, Geysir Hot Spring. Here is where we'll find the famed Strokkur hot spring where you can witness it's periodic explosive eruptions of hot water shooting about 15-20 meters into the air every few minutes. You can also walk around the area to see bubbling mud pools and steam vents.
It's important to relax!
Our tour also includes a visit to the Fontana Spa, a hidden gem located in the charming town of Laugarvatn. The Fontana Spa is built on natural hot springs, providing visitors with a unique and relaxing experience. You can soak in the hot pools, enjoy the steam rooms and saunas, and take a dip in the refreshing lake just a few steps away. It's the perfect way to unwind and rejuvenate after a day of exploring Iceland's natural wonders. Don't forget to bring your swimsuit, and get ready to experience the ultimate Icelandic spa experience at the Fontana Spa.
As we finish our visit to the Fontana Spa, we'll make our way back to Reykjavik, passing by the scenic landscapes of the Icelandic countryside. Throughout the tour, our expert guide will share their knowledge and insights about Iceland's natural wonders and unique landscapes.
So, get ready to be amazed by the beauty of Iceland's natural wonders on this Golden Circle Tour, with an unforgettable visit to the natural ice cave hidden in Langjokull glacier. Book now and get ready for an adventure of a lifetime!