Glacier Camp: Only for the true adventurers!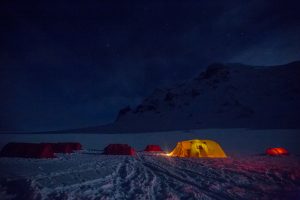 Glacier camp is an exhilarating adventure, offering breathtaking scenery and an unforgettable experience. However, it is not a journey to be taken lightly. There are several important factors to consider before embarking on a glacier camping trip, as the dangers of glacier travel can be significant.Book now
One of the most important considerations is having an experienced guide. Glacier travel can be treacherous, with hidden crevasses, unpredictable weather, and other hazards. A knowledgeable guide will be able to navigate these dangers and help ensure a safe and enjoyable trip.
In addition to an experienced guide, proper gear is also crucial. This includes appropriate clothing, glacier-ready gear such as a properly modified super jeep, and tents that can withstand the strong winds that we can encounter on the glacier.
The Experience
Understanding the weather forecast is another critical aspect of glacier camping. The trip will start at our Expedition Base in Reykjavik where we'll assess the weather. The weather can change rapidly on the glacier, and being prepared for these changes is essential. The guide will interpret weather forecasts and make informed decisions about when and where to set up camp and when to travel. We have numerous options for where to set up camp reducing the likelihood of weather related cancellations. The downside of that is not being able to advertise or let our guests know in advance where we will be going, but that's part of the thrill.
Overall, camping on a glacier can be a thrilling and unforgettable experience. However, it is important to be prepared and informed about the dangers of glacier travel. With an experienced guide, proper gear, and a good understanding of the weather forecast, you can have a safe and enjoyable glacier camping trip, truly an experience for the bucket list
Availability: All Year
Pick up: At 08:30 from your hotel or guesthouse in Reykjavík.
Trip Duration: 2 days
Includes: The Arctic Truck vehicle and guide – min 2 vehicles on each trip. Accommodation in glacier tents for 1 night and all gear and food you need to camp out on the glacier.
Bring with you: Very, very warm outdoor clothing – dress like you are going to the south pole, good shoes, your camera and some snacks.
Please contact us for further information.