Are you in for one of Iceland's most adventurous tours? Then the glacier experience is what you are looking for! A trip that will insist on your focus and skills!
After choosing the perfect glacier to explore, you will have a quick briefing at the Arctic Trucks headquarters. You will get to meet the glacier expert that will embark upon this journey with you and get you safe and sound back home. The Arctic Trucks set sails from the headquarters and you are taken on an amazing trip where you get to see breathtaking nature as you have never seen before!
When the Arctic Trucks arrive at the magnificent snow-covered glacier, the tires will be deflated and the guide leads you on a safe path on the glacier. Once the sun is lower on the sky everyone will help set up camp and prepare dinner for the hungry explorers.
In the wintertime it is one of the most magical things to see the Northern Lights above your heads before you crawl into the cozy sleeping bags.
When the sun rises on the next day, everyone packs up the camping gear and start heading towards civilization. On the way back, you get to drive on rough mountain roads, cross rivers and witness the spectacular gifts that the earth has blessed Icelandic nature with.
Glacier Experience is a challenging trip. It is an extreme experience but you are in the safe hands of the guide, who might have to make a last-minute decision according to weather conditions.
Recommended months are March – August
To book or to get more information please send us a line experience@arctictrucks.is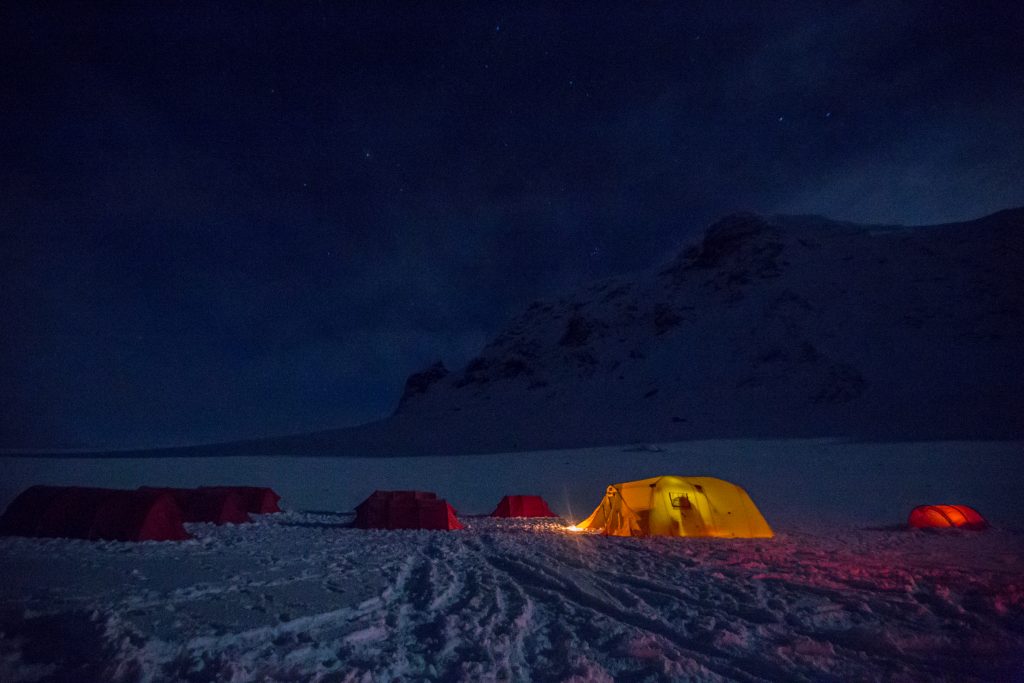 Further details about the Glacier Camp Experience
Pick up: At 08:30 from your hotel or guesthouse in Reykjavík.
Trip Duration: 2 days
Includes: The Arctic Truck vehicle and guide/ instructor – min 2 vehicles on each trip. Accommodation in glacier tents for 1 night and all gear and food you need to camp out on the glacier.
Bring with you: Very, very warm outdoor clothing – dress like you are going to the south pole, good shoes, your camera and some snacks.
If you have any questions please send us a line to experience@arctictrucks.is or fill out the online contact form. We get back to you within 24 hours.