With you behind the wheel of the Arctic Truck we take the main road east through the mountains of Helliðsheidi plateau and drive along the south coast passing small Icelandic farms all the way to the foot of the world famous Eyjafjallajökull glacier. The first stop is at the popular sight Seljalandsfoss waterfall where the brave ones can take a walk behind the waterfall as it falls from the very high cliffs.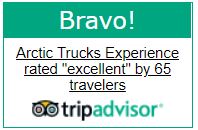 From the waterfall, we take a gravel road and drive between two glaciers on the rutted tracks and crossing a few unbridged glacier rivers before we arrive at Þórsmörk valley at the foot of Mýrdalsjökull glacier and Katla volcano. It is impossible to reach the valley on a regular vehicle, the guide teaches you how to cross the rivers on the super jeep and why we need to deflate the tires of the truck on the way. In Þórsmörk valley we make stops at Gígjökull outlet glacier and Stakkholtsgjá canyon to explore its hidden waterfall.
Optional hiking tours in the valley or more driving on the rough tracks, all depending on your wishes!
This tour offers self-drive adventure, waterfalls, rivers, rutted tracks, famous Eyjafjallajokull glacier and volcanoes… what more can you ask for in one day?
Pick up: at 08:30 from your hotel or guesthouse in Reykjavík.
Trip Duration: around 10 hours.
Bring with you: Warm outdoor clothing, your driver license, good shoes, snacks for the day and your camera.
Meals: No meals are included on this tour but it is possible to buy lunch on the way.
Insurances: All drivers need to sign a car rental contract before the trip starts. Self-risk is 3000 EUR. Please read all the details of the contract before starting the trip.
Prices for the private Eyjafjallajökull & Þórsmörk tour
Self-drive or Driver guided. 
For AT38 Hilux or AT38 Nissan Navara the cost for a vehicle and guide is ISK 139.000.-  max 3 pax per jeep.
Currency Converter
Includes: The Arctic Trucks vehicle and a guide/instructor.
Extras:
Extra Driver:                                          Included
Unlimited kilometers:                          Included
Rope, shovel, tow eye, tire gauge:      Included
Cancellation policy
Day Trips:
10% of the price of your tour in nonrefundable.
If you cancel with more than seven days' notice you will be refunded 90% of the trip price.
If you cancel with less than seven days before your departure you will be refunded 70% of the trip price.
If you cancel with less than two days' notice (48 hours) no refund will be given.
If you have any questions please send us a line to experience@arctictrucks.is or fill out the online contact form. We get back to you within 24 hours.