On this half day Arctic Truck tour your private guide will introduce you to the basic skills and techniques you need to learn to tackle different off-road terrains in Iceland driving a super jeep. With the emphasis, firmly on enjoyment and driving, you will leave with a desire for more adventure!
We start the tour with only 20 minutes' drive to the Hellisheidi plateau and the geothermal power plant, we will drive through the fun mountain track called the 1000 Rivers Road, crossing several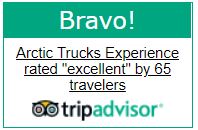 unbridged rivers and through beautiful mountain ranges where we test the skills and limits of the Arctic Truck. Your private guide teaches all that you need to know to drive and Arctic Truck in the Icelandic highlands – you deflate the tires, might get stuck, use the low range and differential locks and so much more!
This tour combines the ultimate driving experience and stunning nature.
Loading…

Pick up at 09:00 or 13:00 from your hotel or guesthouse in Reykjavík.Trip Duration: 4,5-5 hours. Bring with you: Warm outdoor clothing, your driver license, good shoes, snacks for the day and your camera.
Meals: No meals are included on this tour.
Insurances: All drivers need to sign a car rental contract before the trip starts. Self-risk is 3000 EUR. Please read all the details of the contract before starting the trip.
For AT38 Hilux the cost for a vehicle and guide is ISK 100.000.-  max 3 pax per jeep.
Currency ConverterIncludes:
The Arctic Trucks vehicle and guide/ instructor.
Extras: Unlimited kilometers: IncludedRope, shovel, tow eye, tire gauge, fuel: Included.
Cancellation policy
Day Trips:
10% of the price of your tour in nonrefundable.
If you cancel with more than seven days' notice you will be refunded 90% of the trip price.
If you cancel with less than seven days before your departure you will be refunded 70% of the trip price.
If you cancel with less than two days' notice (48 hours) no refund will be given.
If you have any questions please send us a line to experience@arctictrucks.is or fill out the online contact form. We get back to you within 24 hours.