December offer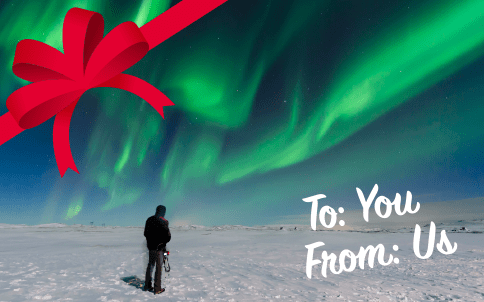 In December only!
We are spreading the holiday spirit in December by giving our guests a complimentary Northern Lights tour.
Enjoy a full day of an exciting Arctic Trucks Experience, followed by a cozy evening chasing the Northern Lights.
The small group guided Northern Lights tour takes you out of the city to the best spot to see the lights. The natural phenomenon is one of the world's most spectacular sights and the colours can range from green to white to red and blue. The lights are the result of solar winds when they hit and disturb the Earth's magnetosphere.
Tick one item of your bucket list on this tour!


Your itinerary
08:30 – 09:00 Pickup by Arctic Trucks
18:00 – 18:30 Arrival back to your hotel
18:30 – 21:00 Free time
21:00 – 21:30 Pickup for Northern Lights tour*
21:30 – 00:30 Northern Lights tour
00:30 – 01:00 Arrival back to your hotel or bus stop*


Follow these simple steps to unwrap your present
1. Pick your favorite day tour in DECEMBER
2. Follow the booking process and apply DECEMBER promotional code at checkout
3. You will receive your receipt in a separate email
4. A member of our team will reach out to you with further travel details
Your Northern Lights tour is operated by bus in a small group and is automatically booked on the same date.
If you would like to change the date of the Northern Lights tour, please contact us.
*Pickup and Dropoff for Northern Lights tour may vary depending on hotel location.
The Northern Lights are a natural phenomenon, and as such, sightings cannot be guaranteed. Please note that the indicated return times can vary.