Welcome!
Arctic Trucks Experience offers private self-drive tours in Iceland where you can do the driving, accompanied by an experienced guide. Our trucks have been operation in Antarctica since 1996 and we also offer tailor made expeditions and services on the Antarctic continent.
We are experienced innovators. Our experience includes unique tours and trainings in Iceland, "extreme logistics" products and services in Antarctica, and the first south to north crossing of Greenland in 2018.
Our mission is to deliver high quality service and provide our guests with an unforgettable experience and a lifetime of happy memories. To make sure future generations enjoy the same wild places, we travel responsibly with minimum impact. We teach our guests how to drive with great respect for nature and how to travel safely.
The Arctic Trucks guides are all experienced in travelling in the Icelandic highlands and in tough conditions. Many of them have been guiding trips to Antarctica and also work in the Arctic Trucks workshop and have an inside knowledge of our Trucks. The online tour selection is just to give you an idea on what we have to offer, the tours are always private so we have flexibility with the itinerary. Usually our trips are a mix of popular sights and also the isolated highland roads.
Few people have had the opportunity to sit behind the wheel of a powerful 4×4 in one of the world's most stunning places. Arctic Trucks Experience has now made it possible to experience the remote areas of Iceland in guided self-drive tours, driving cars like those used in the well-known BBC television show Top Gear, on their journey to the Magnetic North Pole.
The vehicles are re-engineered Toyota Hilux on 38" tires and are all 2016- 2017 models. The Arctic Trucks guide will teach you everything you need to know for driving the vehicle in the highlands. You will take part in everything during the trip: deflating the tires, using the shovel and rope, driving on difficult roads and crossing rivers. You learn what super truck tours in the Icelandic highlands are all about! All the tours are private and can be booked as self-drive or driver guided.
The company Arctic Trucks specializes in re-engineering 4WD vehicles for use in rough environments: in the mountains, on glaciers, or in the desert. Rescue teams, police forces, and electrical companies use Arctic Trucks cars, as well as ordinary people who need cars that suit their lifestyle.
The origin of Arctic Trucks can be traced back to 1990 when Toyota in Iceland started to modify 4WD Utility and Sport Utility Vehicles. This business has taken us on a long journey over the years, building up great experience and knowledge that has given Arctic Trucks a world-renowned expertise in engineering vehicles for the most extreme environments on the planet.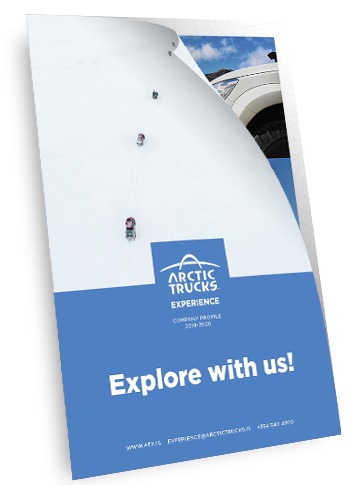 Feel the childlike joy of exploration: join the professionals at Arctic Trucks for your next adventure!
Please contact us for further information.