December is one of our favorite months of the year, and it is not just because of the Christmas season even though the Christmas lights and everything jolly helps of course.
What makes the month unique is the variety of things you can see and do. Many of them are of course possible to do in other months as well, but there's just something about December that makes them just a little bit more special.
We have put together a list for you of the things that are worth having in mind when you come to Iceland in December
Dress in layers!
Iceland benefits from the Gulf Stream, without it, the country would be pretty much unliveable. But because of it, the average temperature in Reykjavík in December is around 0°C. The average temperature is, of course, lower in North Iceland and the highlands but we don't have the extreme colds of the Arctic here.
What we recommend people do is to dress in layers. It is always better to be warm and being able to take off clothes instead of being cold and not being able to do anything about it. Checking out the Icelandic Met Office is also a good thing to do to keep up with the weather!
Short days, but the light is beautiful!
What December has, which November, January and February do not have, is the Winter Solstice. The shortest day of the year (or longest night of the year – depending on how you look at it) has about 4 hours of daylight in Reykjavík. That does not mean that it is dark for 20 hours, oh no. The twilights in Iceland are spectacularly long, and when it is dark, the chance of seeing the Northern Lights (if conditions are right) are pretty good.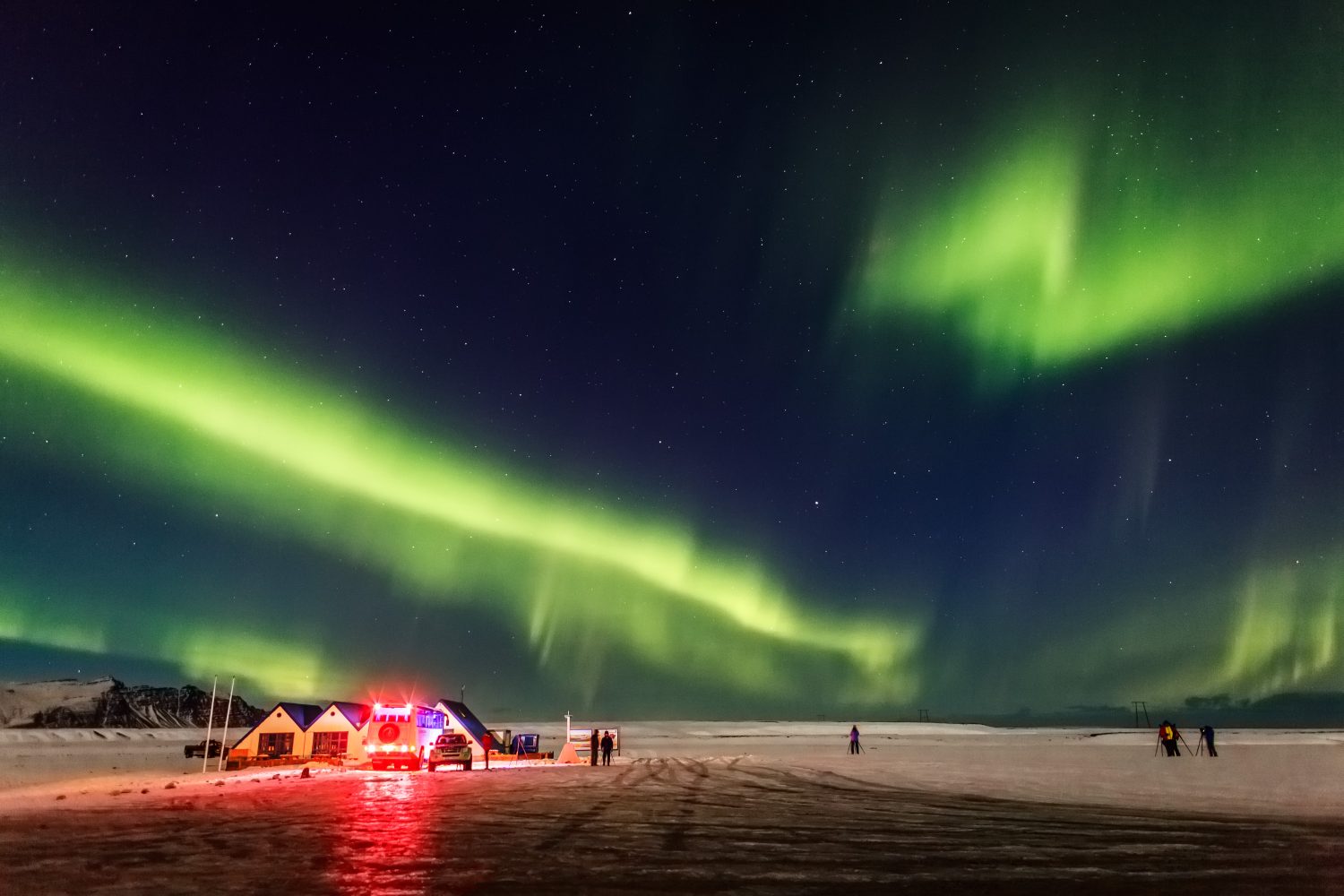 Even when the sun rises, it hovers not far above the horizon before setting again. Due to the low position of the Sun during December, the light will make your photographs sensational.
The Northern Lights – Iceland's worst kept secret
We have already mentioned the Northern Lights. Well, Iceland is in an optimal spot on the planet to see the lights. To see them you will need solar flares and clear skies, sadly not something we control, but the Icelandic Met Office is good at forecasting where and when you will be able to see them, as well as their strength. Guests of the Arctic Trucks Experience's Northern Lights tours have been able to experience some great lights from remote mountain huts.
Hot springs & geothermal pools – Iceland's specialties
As you might know, Iceland is known for geothermal heat so remember to pack your swimwear! One of our favorite things to do is visiting a natural spring in the highlands and watch the Northern Lights swirl in the sky. The hot springs are not all suitable for bathing in but the ones that are, are spectacular. There are not many things in the world that top this experience!
Local swimming polls are also worth a visit. They are all heated up with geothermal water, and many people go every single morning to the hot tub to discuss headline news.
Fireworks on New Year's Eve – something you have never witnessed before!
We have already mentioned Christmas as being one of our favorite things about December. But December would not be what it is without New Year's Eve and Icelanders' love for fireworks!
Icelanders are only allowed to shoot up fireworks between 28th of December and 6th of January. So those who buy fireworks have to do it then and shoot them up on New Year's Eve. The spectacular show of light and noise is an experience no one should miss if they can.
Most people start shooting up at around 11:30 in the evening after the annual comedy show ends. At midnight, things go a bit crazy, and you will not even have to check the time, you will just know when the clock strikes midnight.
Two of the best places in Reykjavík to watch the fireworks is in front of Hallgrímskirkja church and Perlan.